Future-proof your outdoor LED investment with MeshSmart lighting control system
Smart, efficient and affordable control network technology for outdoor lighting.
Learn more about our technologies
MeshSmart is a leading provider of IoT-based smart city technology. We are headquartered in Richmond, BC Canada, and our team is comprised of experienced professionals in the LED, IoT, and smart technology fields. Our IoT networking platform has been delivering the most cost-effective, performant, secure and reliable solutions.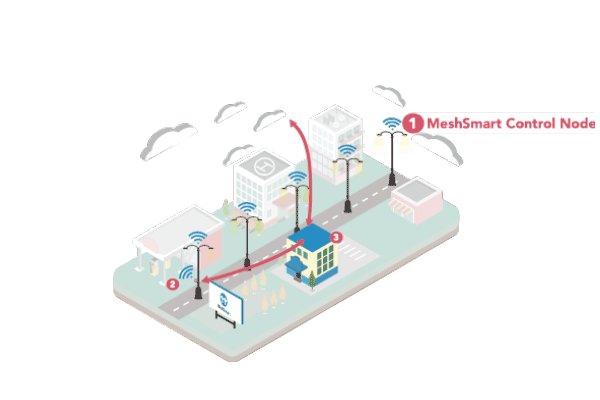 Remote Control and In-Node Scheduling
Lights can be controlled individually or by groups through UI or scheduled based on daylight, specific times and other inputs. The schedule is recorded in node so their configuration would not be interfered by server disruptions.

Easy Field Commissioning and Configuration
Commissioning can be done with one click, and all programming and configuration can be done with LiteView web application on local network.

Web-based User Interface for Local & Cloud
All nodes can be addressable on the management application, which enables users to monitor and manage lighting networks that are locally hosted or cloudbased.

Lighting Operation Profiles Work Without Network
All the scheduled controls and sensor rules are wirelessly programmed and calculated on the light control nodes so the lights could still function as preconfigured without network.

Connect with Light and Motion Sensors
Third party light and motion sensors can be connected with MeshSmart control node to take control of individual or multiple lights. The sensors can also be programmed and managed by MeshSmart system.

Real-Time Monitoring and Self-Diagnosing
It can monitor and self-diagnose in real-time, which means any activity or malfunctioning node would be detected and notified to the user immediately to take action.

Revenue Grade Energy Metering
Each lighting control node contains energy measurement module for revenue grade metering.

Linear Continuous Dimming
Light brightness can be controlled with over 100 steps, so it can be respond to programmed strategy

MeshSmart system is a full wireless solution. System maximizes ZigBee wireless technology to connect devices and 3G/4G network to servers. NB-IoT connected devices are also available.

MeshSmart systems are designed to help businesses run more efficiently by reducing their operating costs while significantly improving the public's experience.

The many features of MeshSmart products enable users to monitor and control the environment with ease, which significantly increases operational and energy savings.

World's first de-centralized infrastructure smart management system. All products go through in-depth testing and are industry certified

Users can receive and provide information with high accuracy and latency, ensuring optimal configuration

The use of edge computing technology and computing all data in individual systems ensure a top level of security.